Disney World maps are one of the best resources you can use to help you navigate your way through all of the parks at Walt Disney World, especially if you are a first time visitor.
Maps of the four Disney World Parks and the two water parks can be found here. Plus I explain every ride, restaurant and shop mentioned on each map so you have all the info you need to pre-plan the perfect trip.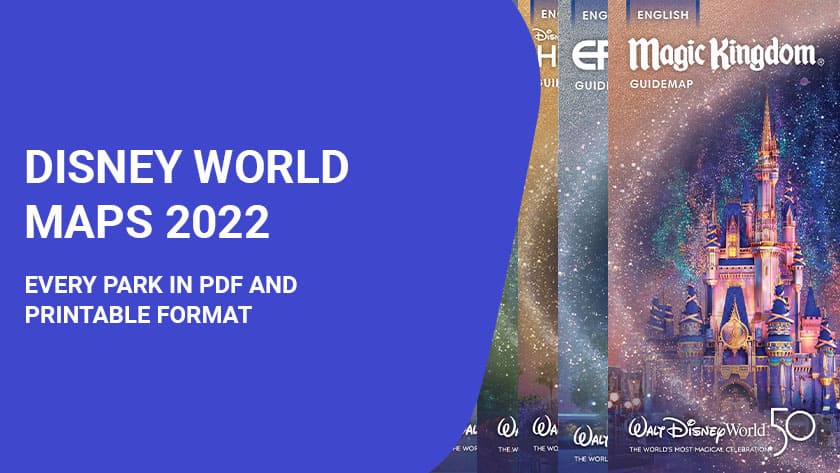 THEME PARK MAP LIST :
WATER PARK MAPS LIST:
FREE AREA MAPS:
Disney World Main Map
Walt Disney World's main map contains all the theme parks, water parks, and free areas of the park. If you plan to visit multiple parks in a day, the map will give you a good idea of where each park is located in relation to others.
This map is available in three formats. Click on one of the three buttons to select the format you prefer.
Theme Park Maps
Choose from the articles below for a more detailed map and descriptions of each of the four theme parks: Disney's Magic Kingdom, Epcot, Disney's Hollywood Studios and Disney's Animal Kingdom.
Water Park Maps
If you are planning a trip to one of Disney's Water Parks for the first time, it is a good idea to review the attractions of each water park to find out which is best for swimming, diving or just relaxing by the pool. The easiest way to compare each park is to click on the maps we have provided for each water park and descriptions of each attraction at each park.
Disney Non Park Maps
Disney Springs, Disney BoardWalk, and ESPN Wide World Wide are not parks. They are Disney entertainment areas. These areas can be visited for free without a ticket, and you can do some shopping, eat, or watch some of the free entertainment options.
Select the areas you plan to visit below and download the map, so you can easily navigate to these non-park areas and avoid theme parks.
Other Places You Can Get Disney World Maps
Guest Relations
You can pick up physical maps of any of the theme parks at Guest Relations locations in each of the theme parks and at Disney Springs.
Disney World Virtual Map
The Disney World Virtual Map is a digital map that allows you to explore the Walt Disney World Resort. You can zoom in and out, move around, and see what each park looks like! It's a great way to get a sneak peek at the parks before your trip. To view the map, click here.
Order Disney World Maps Online
If you're hoping Disney World will still send you maps through the mail in advance, then you're out of luck. Disney World used to send vacation planning materials and maps through the mail about ten years ago, but they no longer do so.
Disney World App Map
You can download the My Disney Experience Map App for Android and iPhone if you prefer that type of map. With this app, you can view maps of all four theme parks as well as wait times at attractions and restaurants. Click here to download it.
Final Thoughts
I hope that this article has been helpful in providing you with every Disney World map you would need to get started planning your Walt Disney World vacation. If you have any further questions, please don't hesitate to ask me in the comments below!